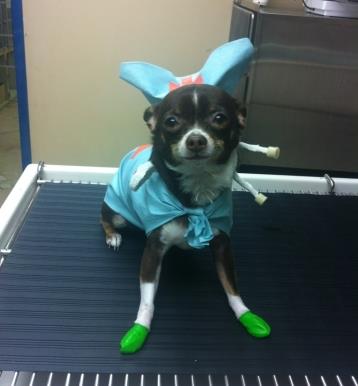 Trick or Treat! It's Halloween and we are all getting ready for our haunted celebrations.  In all of the excitement of decorating and picking the purrfect costume, we at Bloor Animal Hospital want to provide you with some helpful hints to keep your pets healthy and safe during the Halloween season.
Keep your black cats indoors! Sadly, black cats can be mistreated and abused around Halloween time.
Halloween treats with chocolate are not appropriate for pets.  Depending on the dose ingested they can be potentially poisonous to many animals
Candies and gum containing the sweetener xylitol can be toxic to pets
Keep aluminum foil and cellophane candy wrappers away from pets.  They can cause vomiting and even an intestinal blockage.
Never offer or allow your pet to access alcoholic beverages.  If ingested, the animal could become very ill and weak and may go into a coma, possibly resulting in death.
Halloween decorations such as plants, pumpkins, and decorative corn are considered non toxic, yet they can potentially cause stomach upset.
The ghouls and goblins trick or treating at your door can be very stressful to your pet.  Providing them with a quite area of the house to retreat to will help ease that stress.
If your pet will be participating in the festivities with a costume ensure they are not too constricted and are able to walk, see, hear and do their "business" comfortably.  Some pets find this a little overwhelming; you may want to help prepare them for the big night early by slowly introducing the costume for short periods.  And never force your pet into the costume; you wouldn't want them to leave you a little trick or treat on the carpet!
Halloween is fun and can be happily enjoyed by all the members of your family if you keep these hints in mind.  If you are concerned that your pet has gotten into any dangers, please contact your vet immediately.
Wishing you a safe and terrifying Halloween,
Your friends at Bloor Animal Hospital