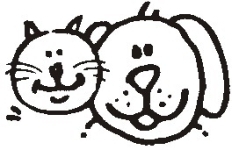 We would like to wish all of our patients and their families a safe and happy holiday season. However, if your pet is in need of medical attention over the holidays, here are our hours and the emergency hospital contact information:
We will be open our regular business hours unless otherwise stated below:
Hospital Holiday Hours:
December 24th: 7:30am – 12:00pm
December 25th & 26th CLOSED
December 31st: 7:30am – 12:00pm
January 1st: CLOSED
In case of an emergency outside of our hours, please contact the Veterinary Emergency Clinic at 416-920-2002 
We will be hosting a bake sale to help raise much needed funds for Four Paws One Heart cat rescue.  One of our receptionists, Katie, helps Four Paws raise money and care for abandoned pets in need of medical care and forever homes. If you are in Bloor West Village this weekend, please come by to support Katie and enjoy a delicious treat!
Bake Sale will run from Friday December 11th at 3:30pm through to Sunday December 13th at 5pm.
Did you know that we can now text you your pets wellness check up reminders?
If you would like to sign up for text message reminders, you can opt in through your Petly account.