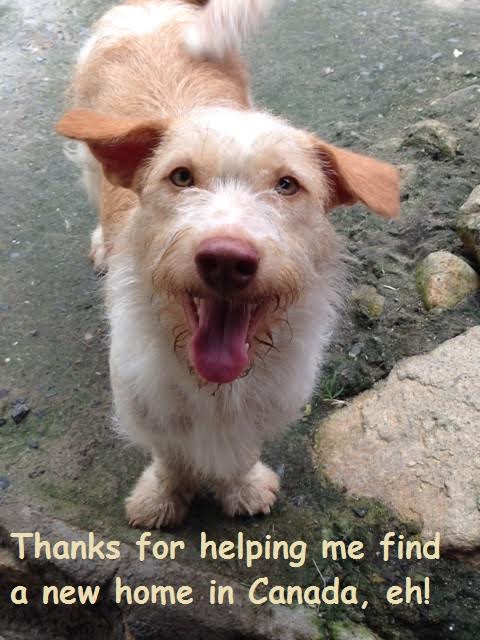 Last year, one of our Registered Veterinary Technicians Carley,  had a fantastic opportunity to travel to Asia and help with the stray animal population on the island of Koh Phangan, Thailand. Carley spent 3 months exploring the island, making great friends, submerging herself in the local culture while volunteering full-time at Phangan Animal Care for Strays (PACS).
The "dog culture" in Thailand is entirely different from that in Toronto, Canada. There are dogs EVERYWHERE. Many of the owned dogs live their entire lives outside of a home. Properties are not fenced in and the dogs are not tethered to the property. As a result, the dogs roam freely. This doesn't mean that the dogs are not well cared for; it's just to point out the difference in culture. PACS has done a fantastic job with educating the local community about the benefits of sterilization (and vaccination) and as a result, they have seen a significant reduction in the local stray population. PACS makes every effort to facilitate adoptions for the dogs that come in to their care despite having limited space and resources. They are unable to house healthy dogs long-term as they regularly have ill, and often contagious, patients admitted. They are not equipped to run as a shelter.
Buddy was originally brought to the clinic as the main source of support for his partner in crime, Luna. She had suffered a broken leg and was severely anemic. She was not recovering well as she refused to eat or come out of her kennel. She made a miraculous recovery when she was reunited with Buddy. The pair had been raised as "inside dogs" but were abandoned and left to survive on the street. While many stray dogs are quite happy to be returned to their territory upon recovery (that is the area where they were originally found), PACS didn't feel it was in their best interest to release the pair. Since there didn't appear to be much interest in adoption, Carley decided to reach out to the rescue community in Toronto and see if anybody was interested in adopting the pair.
Happy Tails Rescue had agreed to take-on the pair once they arrive in Canada. PACS recently notified Carley that Luna had fallen ill and passed away. After very little discussion with Happy Tails Rescue we decided to follow through with Buddy's transport to Canada and help find him a forever home. Carley is in the process of fundraising to help cover the cost of the transport and associated veterinary care required for his flight. Any additional funds collected will be split between Happy Tails Rescue and PACS so they can continue with the great work that they do.
If you are interested in learning more about these fantastic organizations please check out their websites at happytailsrescue.ca and pacsthailand.com.
Please contact Bloor Animal Hospital at 416-767-5817 to schedule your pets nail trim on March 19th and 20th to help raise funds to bring Buddy home!